2017
Ford
Escape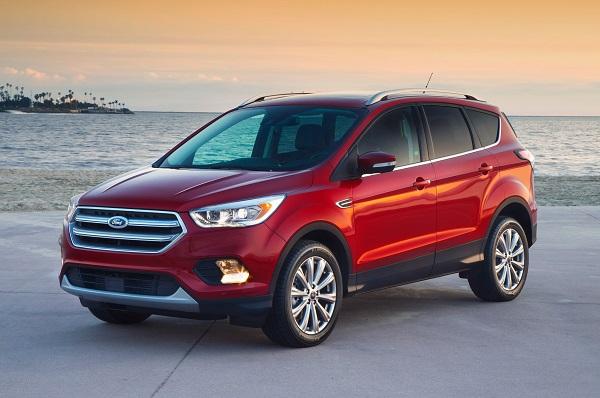 It's often said you can't have too much choice, but that's not always the case. It's easy to start thinking less is more when you find yourself wading through the plethora of trims, engines, drivetrains, option packages, transmissions, features and equipment some manufacturers confront us with. Then again, although certain German manufacturers certainly don't seem to know when enough is enough, it wouldn't be right to be offered too little choice either. When checking out the 2017 Ford Escape, it quickly becomes obvious the Blue Oval has found a perfect halfway house sitting somewhere between bewilderment and restriction for its compact crossover. The latest Escape has a lineup that's nice and straightforward, but also comes with all the choice you want and need.
The 2017 Ford Escape is still in its third-generation, and that means it's now been in production since 2012 as a 2013 model year. So, the 2017 model year is the perfect opportunity and time for the Escape to benefit from a mild, mid-cycle refresh, although it stops well short of doing anything too radical that could derail what is an incredibly successful formula. The front of the Escape sees a reasonable amount of aesthetic enhancement, and it's no real surprise the latest corporate face the 2013 Fusion first introduced is now very much in evidence. A number of technology updates have also been brought in, but the most substantial changes to the Escape this time around come in the shape of two new, four-cylinder EcoBoost engines.
The first of these exciting new powerplants is a 1.5-liter to replace the 1.6-liter unit that was in last year's model, while the second of the two is a new generation of Ford's excellent 2.0-liter inline-4. The familiar 2.5-liter normally aspirated four-cylinder is still the standard engine in the Escape, and it puts out a pretty useful 168 horsepower and 170 lb.-ft. of torque. The 1.5-liter EcoBoost does offer a little more power than the standard unit as it produces 179 horsepower and 177 lb.-ft. of torque, but its real trump card is the extra degree of fuel-efficiency it offers. However, if power is the bigger concern, the 2017 Ford Escape can deliver as much as 245 horsepower and 275 lb.-ft. of torque when equipped with the 2.0-liter twin-scroll EcoBoost. Although 0 to 60 mph times might not be the most important criteria when deciding which compact crossover to buy, the sub-seven second time the Escape can manage with the 2.0-liter EcoBoost has to be worth a mention, at least.
On the face of it, the three four-cylinder engines might be a bigger choice than expected when claiming the Escape lineup was straightforward, but genuine simplicity occurs when it's time to select a trim level. The 2017 Ford Escape is offered in just three different specification levels, which are S, SE and the top-of-the-line Titanium. The S model gets the normally aspirated 2.5-liter engine, it's a front-wheel drive only model, and it has the six-speed automatic transmission found in every Escape variant. Next in this relatively small family is the SE, which then comes equipped with the new 1.5-liter EcoBoost as its standard engine, but this time front or all-wheel drive can be specified. Last but definitely not least is the superb Platinum at the top of the class, and this is where that fabulous 2.0-liter EcoBoost comes into play, which also offers a choice between standard front or optional all-wheel drive form.
*All vehicle mileage based on 2016 EPA mileage estimates. Use for comparison purposes only. Do not compare to models before 2008. Your actual mileage will vary, depending on how you drive and maintain your vehicle.